322-unit luxury apartment project to replace downtown Denver parking lot
February 16, 2016 byTamara Chuang forThe Denver Post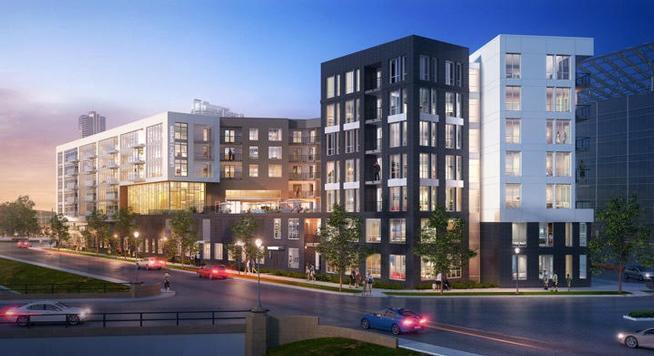 A 322-unit apartment complex loaded with amenities like a dog spa and personal wine lockers could start construction on the edge of the Golden Triangle neighborhood by August, developers said Tuesday.
The proposed seven-story Legacy on Speer will target affluent urban dwellers and could be the first in more downtown projects by Legacy Partners, which has developed and managed apartment complexes in the Denver suburbs since the 1970s, said Spencer Stuart, Legacy's senior managing director.
"This project is designed to be like a very high-end boutique hotel with all the amenities that you would want in your home," said Stuart.
He confirmed that San Francisco-based Legacy and partner USAA Real Estate Company in Texas paid $17.5 million for the 2.3 acre site, currently a surface parking lot.
The property is bounded by Speer Boulevard, West 13th and 14th Avenues and Fox and Galapago Streets. Permits and formal plans still must be filed with the City of Denver, but developers hope to break ground in August. Twenty months later, the first renter can move in.
Unit sizes will range from 600 to 1,800 square feet with monthly rents between $1,500 to $4,000, Stuart said.
Touted as luxury apartments, the Legacy's proposed rents fall right around the median rent for the neighborhood, according to a new report by listings site Zumper. The report put the median rent for a one-bedroom apartment in the Golden Triangle at $2,150 per month — the highest for the state.
New apartment buildings tend to add the "luxury" label just because they're new, but not all of them should, said Matt Conway, a downtown real estate specialist for Colorado & Co, which specializes in the luxury rental market.
However in the Golden Triangle, spaces like the Joule, with amenities like electric-vehicle charging stations and a virtual golf simulator, list monthly rents between $1,500 for a studio to more than $9,000 for a three-bedroom on Apartments.com.
"The product most in demand, given how expensive everything is in Denver, is micro apartments," Conway said. "All the companies want young, hip, fresh minds. However, those young, hip, fresh minds cannot afford to live in Denver. Those small studios tend to lease the quickest."
Legacy began looking at downtown locations months ago. For this project, the company first met with city planners and community members.
"They were just here on Thursday last week, and we were very pleased with some of the changes they made with their plans," said Rhonda Knop, who is on the board of the Golden Triangle Association. She added that aesthetics were important.
The neighborhood has been a hot spot for apartment development. With the Legacy project, about 1,000 apartment units are in development or recently opened.
"The good news is for our neighborhood businesses and the restaurants," Knop said. "Things like that will have more walk-in traffic — but it is traffic and congestion. Good news and bad news."
The Legacy project isn't targeting young workers just out of college.
"We're looking for the more mature millennial who has a decent job and wants a nicer place to live," Stuart said. "We're trying to attract the more affluent crowd. Our apartments are a little larger than what other folks have been building because the more affluent crowd has more furniture. They need more elbow room."
On the two lowest levels, there will be about 445 parking spots, the dog spa and four live-work spaces that open onto Speer.
The top five floors will have one-, two- and three-bedroom units, a fitness center with yoga room, a demonstration kitchen and wine cellar area, and a business center with offices open to tenants. There will also be a bicycle repair shop, outdoor pool and rooftop lounge decks.
"We think the Denver market is still going to be quite robust," Stuart said.
Legacy considered building condos, but because of Colorado's construction-defects law, which allows homeowners to sue for faulty building practices, the company went with apartments.
"The law is punitive for condo developers," Stuart said. "Will we sell to a condo convertor at some point? Yes, if the law changes."
[ See All News ]