7-story high-end apartment complex breaks ground in Costa Mesa
February 18, 2016 byBradley Zint forLos Angeles Pilot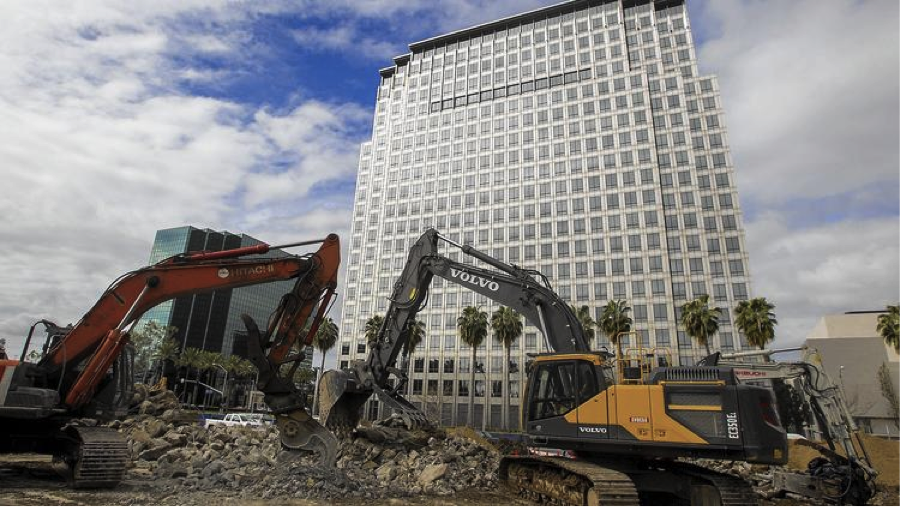 City and business officials gathered in Costa Mesa's South Coast Metro district Thursday morning to break ground on 580 Anton, a new seven-story apartment complex.
The 250-unit development's name comes from its street address, 580 Anton Blvd. It will replace the Lakes Pavilions, a retail and dining center. Demolition of the roughly 24,000-square-foot center, built in 1990, began earlier this month.
Timothy O'Brien, senior managing director at Legacy Partners, the project's Bay Area-based developer, called 580 Anton's design "timeless, beautiful and classic." It will be part of South Coast Metro's changing nature, and its tenants will be within walking distance of the Segerstrom Center for the Arts, South Coast Plaza and about 75 restaurants, he said.
"This was all bean fields," O'Brien said. "It was exciting to see this area evolve over time."
The project's completion is expected in fall 2017.
The high-end complex will feature luxury finishes and various onsite amenities, including a clubhouse, dog-wash station, fitness center, massage room and salon with a wine bar, piano and fireplace, according to a news release. The project has 438 parking spaces.
City Councilwoman Sandy Genis said she was "blown away" after seeing the plans for 580 Anton.
The apartments are the "right project, right place, right time" for South Coast Metro, she said. "It's going to be a great asset to the city of Costa Mesa."
O'Brien and Mayor Steve Mensinger complimented City Hall staff members involved in 580 Anton's long approval process, which began about 10 years ago.
The staff is "as good as it gets," Mensinger said, "not only in Orange County, but anywhere I've ever gone."
The property was originally slated for another residential development called the Californian at Town Center. In 2008, it was approved for about 2,350 square feet of retail space and 250 condominiums in two identical 25-story towers.
[ See All News ]