Another Public Art Project Planned at MODA at Monrovia Station
September 15, 2016 bySusan Motander forMonrovia Weekly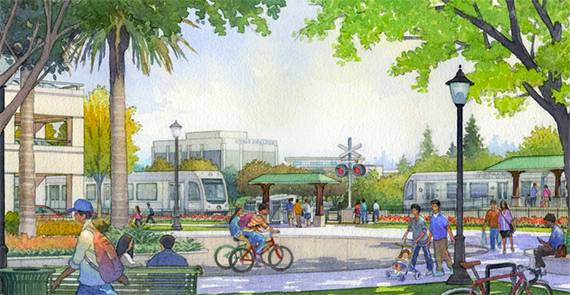 There will be another public art installation installed as a part of the new apartment complex at Station Square in Monrovia.
The proposed project at Moda (the complex originally called The Parks at Station Square) will be called "Monrovia Falls" and will depict the year-round waterfall in Monrovia Canyon. It will be installed on the south wall of the complex, facing the Gold Line.
According to the city, "the concept involves installing tiny cascading reflective discs that are commonly used in billboard advertising and made famous by Sparkletts' water trucks to highlight their signage."
It will be 36 feet tall by 16 feet wide and will shimmer when the wind blows to create the illusion of running water. The artist for the project is Justin Hansch of San Juan Capistrano.
[ See All News ]