California developer bets again on Tampa's urban core
August 22, 2022 by Ashley Gurbal Kritzer forTampa Bay Business Journal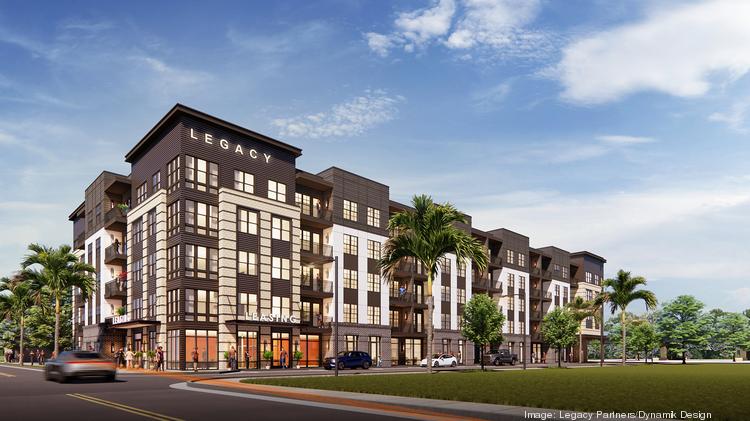 Legacy Partners, based in Foster City, California, is moving forward with its second multifamily project in Tampa's urban core.
The developer recently received approval from Tampa City Council to build 236 multifamily units and 4,600 square feet of commercial space at 623 East Seventh Ave. It will be six stories, and Legacy will also reinstate a portion of Henderson Avenue on the southern side of the development.
Tyler Hudson, a partner with Gardner Brewer Hudson Law in Tampa, represented Legacy Partners in the rezoning process.
In 2021, the developer wrapped up construction on Legacy Encore, which has 228 units in downtown Tampa's mixed-use Encore district.
"We had such great lease-up success with Encore and saw this as an opportunity because it's really between Ybor City and the Heights," Jon Wood, Legacy Partners senior managing director, told the Tampa Bay Business Journal. "Based on the recent experience at Legacy Encore, there seems to be plenty of demand in Tampa Bay, particularly in the urban core."
A general contractor has not yet been chosen. The average unit size is 760 square feet, and the unit mix is 80% studio and one-bedroom units and 20% two-bedroom units.
"Our goal is really to come in at a price point that's more affordable than what you'd find in the central business district," Wood said.
For the commercial space, Wood said Legacy Partners envisions small tenants who might live in the building — photographers or fitness instructors, he said, who want frontage on East Seventh Avenue.
Legacy Partners is also looking for more development sites in the Tampa area, he said.
"We're very bullish," Wood said.
[ See All News ]