Construction tech company with $1.2 billion in backing to build Hayward apartments near BART
December 3, 2018 byBlanca Torres forSan Francisco Business Times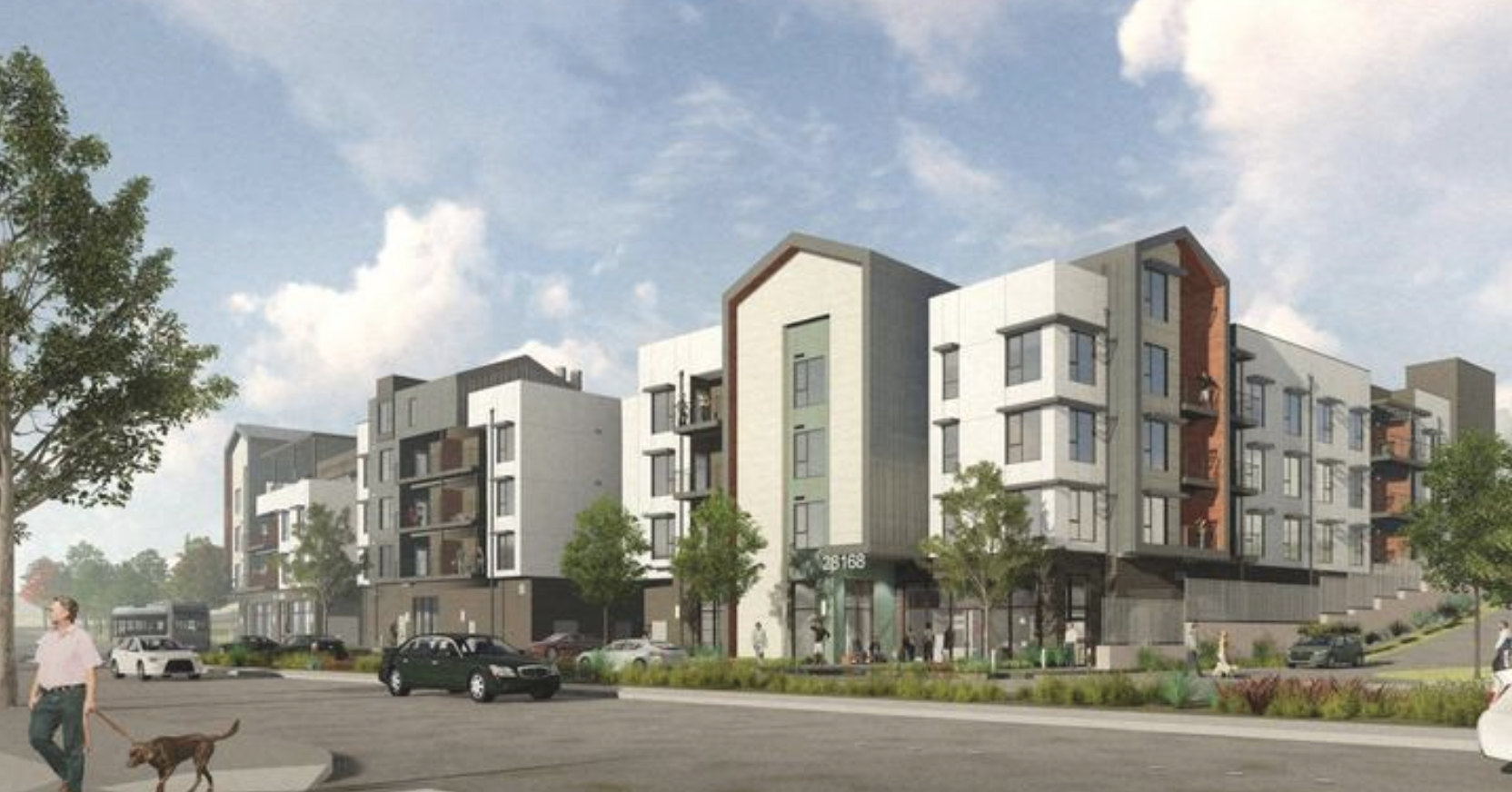 Developer Legacy Partners is kicking off construction on a 97-unit apartment complex designed and built by Menlo Park-based prefabricated construction company Katerra.
The project promises to bring more innovative approaches to housing in Hayward. The location is less than half a mile from the South Hayward BART Station and will use building components made in Katerra's factory in Tracy.
"Once complete, Legacy@Hayward will be one of the most unique transit-oriented properties in the East Bay," said David Eichler, senior managing director at Legacy, in a statement. "Legacy is excited to be working with Katerra and believe that their vertically-integrated, technological approach will be transformative."
Legacy and partner American International Group (NYSE: AIG) recently lined up a construction loan from BMO Harris Bank after buying the 1.78-acre development site for $3.2 million, according to property records. Legacy did not disclose the total cost of the project.
The developers expect to complete the project by April 2020. The complex will be among the first ground-up construction projects Katerra is building in the Bay Area.
The company, founded and led by a group of former manufacturing and tech executives, wants to "disrupt" the construction industry with a more technological approach, vertically integrating from design to completion and by using factory built building components. Founded just three years ago, the company has raised more than $1.2 billion in venture capital funding, according to Crunchbase, and boasts a $3.7 billion pipeline of construction projects.
"Hayward continues to seek smart, transit-oriented developments, staying competitive with the Bay Area's explosive growth," said Sara Buizer, the city's planning manager in a statement.
The seller in the deal was a private family represented by Kidder Mathews broker Matthew Clark.
"This will be the second market-rate apartment property to be built in Hayward since the Great Recession," Clark said in a statement. "As employment remains strong in the Bay Area, there remains a need for housing projects across all markets."
The site previously housed a car dealership that will be replaced by a four-story building with 1,700 square feet of retail. The homes in Legacy@Hayward will range from one- to three-bedroom averaging 883 square feet per unit.
Amenities will include common areas, conference room, a gym with yoga studio, pool and spa, an outdoor lounge, bike storage and repair room, electric vehicle parking, and a roofdeck.
While Katerra has been on an acquisition streak, it has only completed seven projects nationwide and most of those are renovations. In August, The Information published a report that the company is plagued with delays and manufacturing problems.
According to its website, Katerra has only completed one ground-up development in California, the 386-unit Parallel development in Anaheim. In the Bay Area, the company is building Annadel II, a 120-unit apartment building in Santa Rosa.
"Legacy's five decades of development expertise is key to their being an excellent strategic partner for us as we continue to improve the construction industry," said Steve Weilbach, head of sales at Katerra, in a statement.
[ See All News ]