Developers to break ground on 180 apartments next to East Bay BART station
August 25, 2016 byRoland Li forSan Francisco Business Times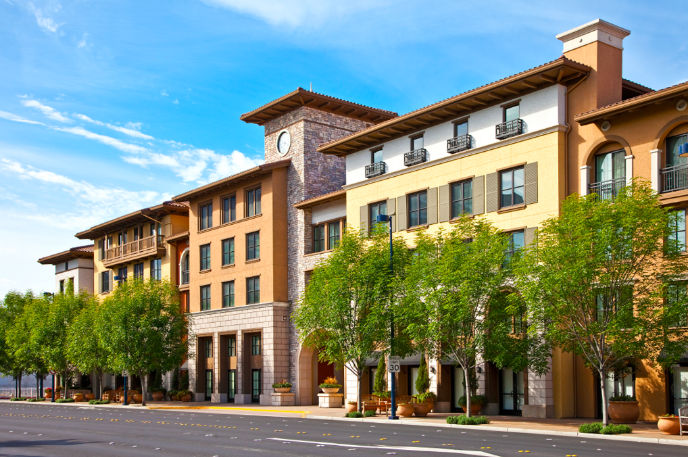 Developers Legacy Partners and SyRES Properties have acquired a 134-unit apartment building near the Concord BART station, along with an adjacent parcel where they plan to build 180 additional units.
The developers plan to break ground in early September on the 180-unit second phase of Renaissance Square and expect to complete the building by the summer of 2018.
Foster-City based Legacy Partners and San Rafael-based SyRES Properties paid $59.5 million for the apartment property, Renaissance Square, at 1825 Galindo St. and $4.5 million for the land, according to property records. The seller was Monogram Residential Trust (NYSE: MORE), which didn't immediately respond to a request for comment.
Guardian Life Insurance Co. financed the deal with a $33 million loan for the property and a construction loan up to $39 million for the second phase, according to property records. Danielian Associates and Architects Orange designed both phases of the project. Johnstone Moyer is the general contractor.
Downtown Concord has seen an influx of new restaurants and breweries, which is drawing new visitors and residents and attracting developers to build denser housing projects near public transit.
Dean Henry, CEO of Legacy Parters, told the Business Times in December that his company was looking in Oakland and the broader East Bay for more development opportunities.
"Young people want to be near the restaurants and bars, near transit, and the rent's less than San Francisco," Henry said.
"Concord is a dynamic area that is experiencing a surge of development interest. It's an increasingly appealing option for residents seeking an established downtown vibrancy with good freeway and public transportation options to the greater Bay Area," said David Eichler, senior managing director of Legacy Partners, in a statement.
Concord's median home price was $513,000 based on sales between mid-May and mid-August, according to real estate website Trulia. That's less than half of San Francisco's median price of $1.15 million in the same time period. Concord's median monthly rent was $2,700 in the last month.
"Concord has many attributes that are attractive for our residents," said Glen Ceridono, senior vice president of SyRES Properties, in a statement. "As cities in the Bay Area become more urban, people are looking for walkable communities that are close to public transportation, and Renaissance Square provides that lifestyle."
Other housing projects near the Concord BART include Nicholsom Development Properties' Concord Village proposal for 231 units between Salvio Street, East Street, Willow Pass Road and Port Chicago, and Argent Concord LLC's proposal for 171 units at 2400 Willow Pass Road.
FivePoint Communities, whose majority investor is homebuilding giant Lennar Corp. (NYSE: LEN), is also developing the former Concord Naval Base into a massive mixed-use development with up to 12,200 homes and 6.1 million square feet of commercial space.
[ See All News ]