Former Macy's property sold for apartment project in Daytona Beach
January 23, 2023 by Steven Ryzewski for Orlando Business Journal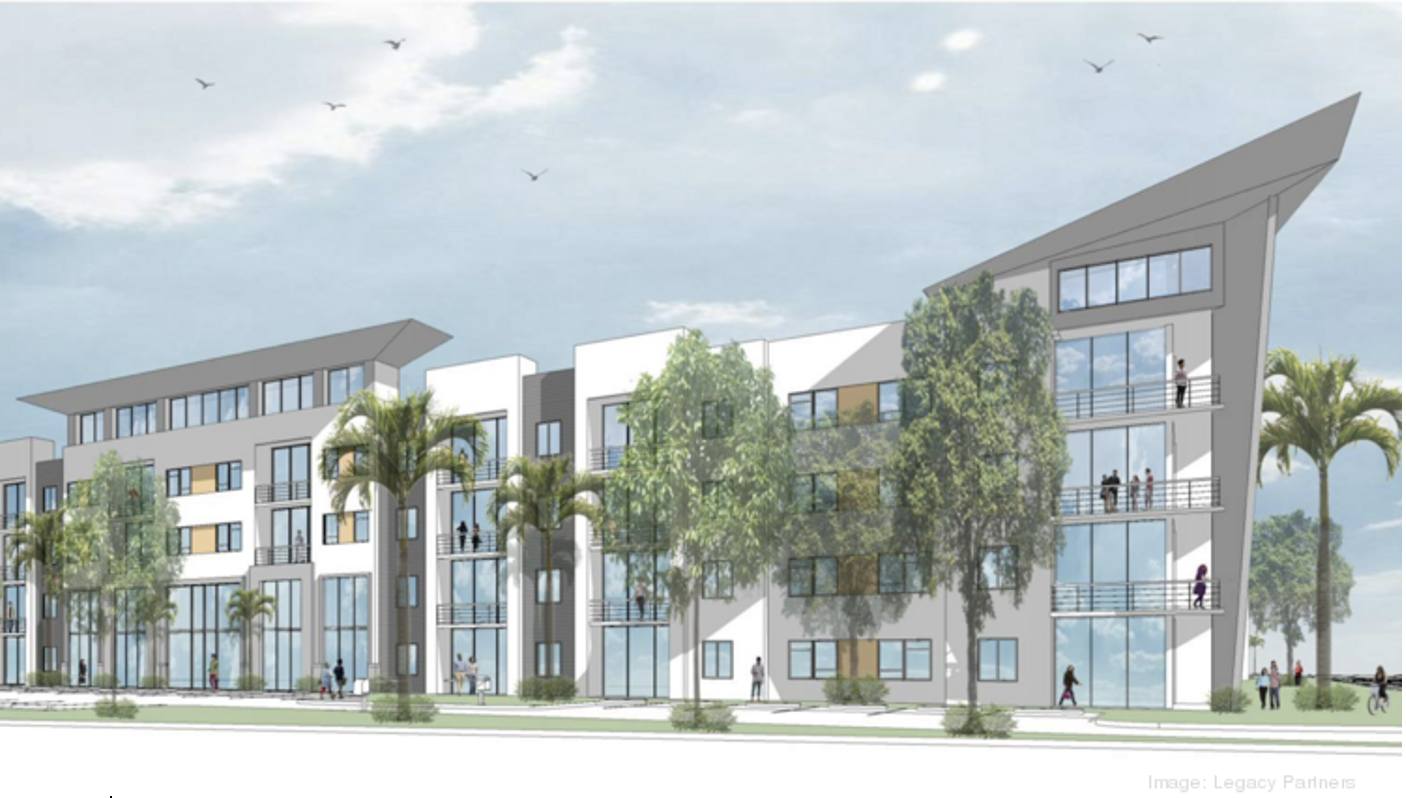 The looming redevelopment of a big-box mall retail store into apartments took a big step forward last week with the $10 million sale of the site.
Volusia County records show Legacy Daytona LLC, a subsidiary of Foster City, California-based multifamily developer Legacy Partners, paid $10 million on Jan. 10 to MRH Daytona Beach LLC for the 10-acre site of the former Macy's at the Volusia Mall in Daytona Beach.
Orlando Business Journal previously reported in November 2022 on the developer's plans to build a 350-unit apartment community on the property.
Why this matters: The closing of the deal for the former Macy's site provides a benchmark for what we might see as more redevelopments of this type are considered by property owners and developers.  The site of the former big-box retailer is on the mall's north side and includes surrounding parking. The mall itself, at 1700 W. International Speedway Blvd., is adjacent Daytona International Speedway and Daytona Beach International Airport, in addition to being roughly two miles east of International Speedway Boulevard's interchange with Interstate 95.
The apartment community will be titled Legacy Daytona. El Segundo, California-based real estate investment firm Griffin Capital Co. is Legacy Partners' joint venture partner in the project. The location is ideal for the project, said Jon Wood, a senior managing director for Legacy Partners, citing its proximity to the mall and other nearby amenities.
"We expect Legacy Daytona to lease up quickly as there is a dense mix of desirable retail, entertainment and dining in the surrounding area to support the residents – who will also enjoy an expansive onsite amenity package, as well as the lifestyle offered by Daytona Beach," Wood said. "Our residents will be able to walk to the Volusia Mall and One Daytona."
Naeem Coleman, managing director for Legacy Partner's Orlando office, previously told OBJ the developer intends to break ground in second-quarter 2023.
Chase Strategies' Senior Strategist Spencer Moore, a spokesman for Legacy Partners, further confirmed that completion is anticipated in summer 2025, with the first wave of units delivering in summer 2024. A general contractor has not been selected yet.  The firm declined to cite an estimated project cost, citing the early stage of the project. Industry standards suggest the project could cost around $87.5 million to build.
Meanwhile, the selling entity is related to Chattanooga, Tennessee-based Urban Story Ventures, which acquired the property for $4 million in Feb. 2021, Volusia County records show.
The redevelopment of part of a large shopping center or mall to apartments is a trend that is becoming increasingly popular in metro Orlando and surrounding areas such as Daytona Beach.
This is because apartments are in such demand due to the region's lack of housing amid a persistent influx of in-migration, said Lisa McNatt, CoStar Group's director of market analytics for Orlando, who is not involved with the project.
"In many cases, retail will no longer be the highest and best use of the land, and the parking fields and proximity to major transportation arteries naturally lend some [retail] sites as ideal for multifamily development."
The trend holds true nationally, as well, as Mike Sladich, a managing director at Northmarq, recently told The Business Journals.
"No one is really building large shopping centers," Sladich said. "Malls are being repurposed. It feels like everything wants to be live-work-play."
Apartments in the Daytona Beach metro have an average monthly rent of $1,493 per unit and an average vacancy rate of 7.4%, according to CoStar Group data.
[ See All News ]