Ledcor Development breaks ground on Phase II of Hercules Bayfront apartment community
May 9, 2019 byEditor forMultihousing Professional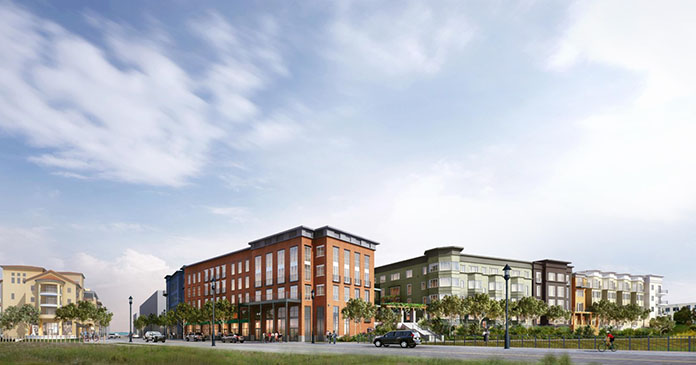 New waterfront district of downtown Hercules gets another community development
Ledcor Development LP announced today the groundbreaking of The Grand in Hercules. Set to open Spring 2021, The Grand is adjacent to The Exchange, which broke ground last Fall and has plans to open Spring 2020. Both communities will be managed by Legacy Partners.
"Hercules is undergoing significant changes to accommodate the region's booming population growth," said Ben Ortega, Sr. Director, Development at Ledcor Development. "It's a hidden gem with a stunning bayfront location and easy access to all Bay Area corridors. We're excited to be a part of the City's smart growth plans."
The Grand and The Exchange are both a part of the City's ambitious Hercules Bayfront Master Plan, which aims to create a diverse and inclusive waterfront community. Located at 2200 John Muir Parkway, The Grand will feature 232 studios and one- and two-bedroom residences across four floors, including 311 parking spaces. There will be 15 affordable housing units at The Grand, comprising the initial tranche of 74 affordable housing units project-wide.
Residences at The Grand will offer expansive views of San Pablo Bay and Refugio Creek, as well as quick access to the community Bayfront Trail, with balconies on select units. The community will be equipped with a modern fitness center, car charging stations, bike storage and repair areas, and a pet salon with a grooming bath station.
"We're highly focused on creating a convenient and authentic living experience for future residents of The Grand and The Exchange," said Deanna O'Brien, Senior Vice President at Legacy. "Hercules has a tranquil town atmosphere and an abundance of recreational activities. It's a special kind of bayfront vibe that you can't get anywhere else in this part of the Bay Area."
Designed by BAR Architects, the 368,293-square-foot Grand is only five minutes from the Hercules Transit Center, a soon-to-be-built Safeway and strip mall, Crockett Hills Regional Park, and the Franklin Canyon Golf Course.
The Exchange, Phase I, is the first delivery in the multi-phase transit-oriented project and spans 2.2 of the 42 acres of the Master Plan Area. The four-story development will include 172 units, including lofts and townhomes, and over 13,000 square feet of ground-level retail nestled between John Muir Parkway, Bayfront Boulevard, and Refugio Creek.
Legacy manages properties throughout the Bay Area, including Baxter on Broadway, in Oakland; The Edge, in Milpitas; The Triton, in Foster City; and many others.
[ See All News ]