Legacy opens Bowman on Stone Way North
June 6, 2016 byJournal Staff forDaily Journal of Commerce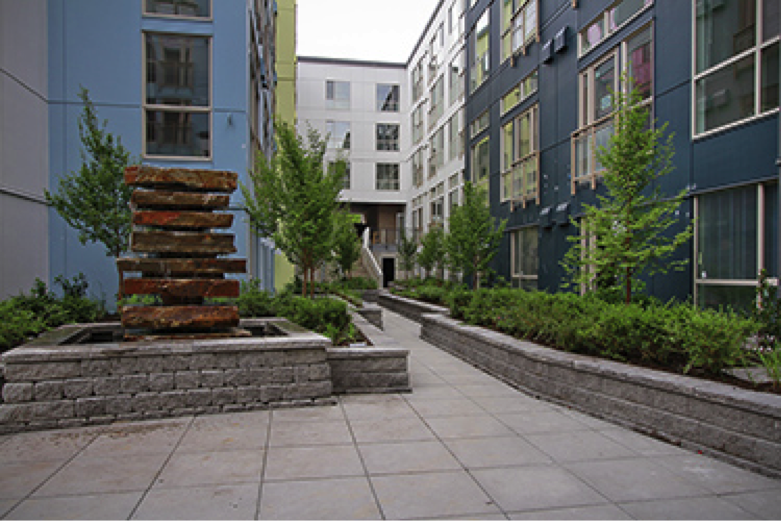 Legacy Partners has opened Bowman, a five-story, 278-unit apartment building at 3801 Stone Way N. in North Seattle.
Legacy purchased the five-parcel site for $12.3 million in 2013.
Bowman was designed by Rutledge Maul Architects and constructed by BNBuilders.
Residents "will enjoy the benefits of all the retail and restaurants of both the Wallingford neighborhood and nearby Fremont," said Kerry Nicholson, senior managing director at Legacy Partners, in a statement.
Bowman — the "bow" rhymes with now — has 8,000 square feet of commercial space. Documents filed with the city show the spaces include a salon, pet day-care center, a 1,100-square-foot bar and a 2,800-square-foot restaurant.
Legacy said the bar is Bar Charlie, a craft cocktail lounge. A site plan identified the restaurant as Art of the Table.
The building also has 261 underground parking spaces.
Units will rent for $1,562 to $4,985 a month. Floor plans range from 431-square-foot studio units to 1,283-square-foot, two-bedroom units. Live-work and townhouse units are also available.
Residents will share a game lounge, media room, fitness center, roof deck, dog run and chicken coop.
Brooks, Adobe and Tableau Software are among the nearby employers.
Other project team members include Yu & Trochalakis, KPFF Consulting Engineers, and Thomas Rengstorf and Associates.
Legacy is a Bay Area-based developer that has done more than 65,000 apartments in the Western U.S. The firm says it manages more than 60 multifamily communities, totaling more than 14,000 units.
[ See All News ]