Legacy Partners And New York Life Close $91.88M Financing By Cushman & Wakefield For Bellevue Station
August 22, 2022 by forcitybiz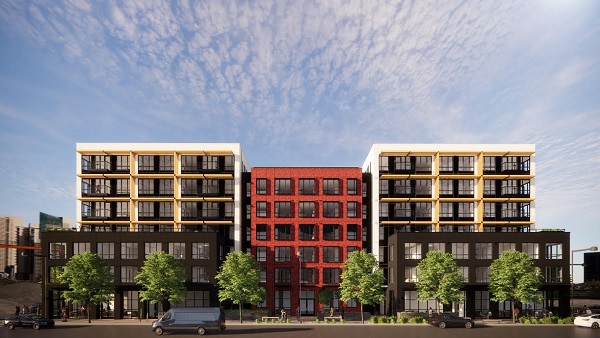 Legacy Partners, a privately held national real estate firm, and Cushman & Wakefield, exclusive advisor to Legacy Partners, Inc. and New York Life Real Estate Investors, announce the close of $91.88 million in construction financing for the development of Bellevue Station, a mid-rise transit-oriented apartment project located at 1525 132nd Ave NE in the fast-growing Bel-Red corridor submarket of Bellevue, Washington. The debt was provided by JPMorgan Chase.
"Bellevue Station is a highly desired site adjacent to a new light rail station along Sound Transit's East Link rail line in the fast-growing Bel-Red submarket of Bellevue, and we will enhance the residential experience here with state-of-the-art amenities," said Legacy Partners' senior managing director of multifamily Parker Nicholson. "We are pleased to have partnered with New York Life and Cushman & Wakefield on the close of this transaction — and look forward to breaking ground soon."
The Cushman & Wakefield Equity, Debt & Structured Finance team of Dave Karson, Chris Moyer and Keith Padien represented the borrower in the transaction. The team also arranged the joint venture equity for the development of the project earlier this year on behalf of Legacy Partners.
"The profile of the Bellevue Station development fits squarely in the portfolio of investments we have strategically assembled," said Albert Pura, Senior Director with New York Life Real Estate Investors. "Legacy Partners is a long-term, high-quality multifamily developer that we are proud to team with – and we applaud Cushman & Wakefield for their work in bringing this opportunity to conclusion."
Bellevue Station will feature 288 apartment residences, including 230 market rate units and 58 below market Multifamily Tax Exemption (MFTE) units. Amenities will include a gym with a separate yoga zone, coffee bar, rooftop club room with terrace, and an indoor/outdoor/games room. The lobby will also include co-working space complete with open booths for residents.
Upon completion in the first quarter of 2025, Bellevue Station will sit along the newly expanded East Link light rail close to some of the world's largest and influential technology and e-commerce employers.
"Despite the challenging environment, there is still liquidity for strong projects with experienced owners and developers," said Vice Chairman Dave Karson. "Higher mortgage interest rates will keep would-be buyers in the rental pool longer, and multifamily property in cities with strong job growth like Bellevue should be strong performers during this period."
Executive Managing Director Chris Moyer added, "Bellevue Station is being developed by one of the nation's premier developers of multifamily communities, and will provide tenants with a premier, affordable and accessible living option. The amount of big tech job growth has also led to a pretty severe housing shortage in Seattle and Bellevue, making this project all the more needed."
About Legacy Partners
Legacy Partners (Legacy), a privately held real estate firm founded in 1968 and headquartered in the San Francisco Bay Area, owns, develops, and manages multifamily communities throughout the United States. Legacy has regional offices in California, Colorado, Florida, Georgia, Texas, and Washington, and has developed more than 66,000 apartment homes in Arizona, California, Colorado, Nevada, Oregon, Texas, and Washington. Since inception, Legacy has worked with some of the world's largest financial institutions, life insurance companies, and real estate companies, consistently delivering exceptional results.
Legacy provides management services for its own portfolio, as well as other owners. Combined, Legacy manages a portfolio of over 54 multifamily communities with more than 12,000 apartment homes, and with a gross value in excess of $3 billion. For further information, please visit legacypartners.com.
About Cushman & Wakefield 
Cushman & Wakefield (NYSE: CWK) is a leading global real estate services firm that delivers exceptional value for real estate occupiers and owners. Cushman & Wakefield is among the largest real estate services firms with approximately 50,000 employees in over 400 offices and approximately 60 countries. In 2021, the firm had revenue of $9.4 billion across core services of property, facilities and project management, leasing, capital markets, and valuation and other services. To learn more, visit www.cushmanwakefield.com or follow @CushWake on Twitter.
[ See All News ]