LEGACY PARTNERS AND PONDMOON CAPITAL ANNOUNCE THE OPENING OF MERIT, A 296-RESIDENCE MIXED-USE COMMUNITY IN LEWISVILLE, TEXAS
October 6, 2023 byChase PR forLegacy Partners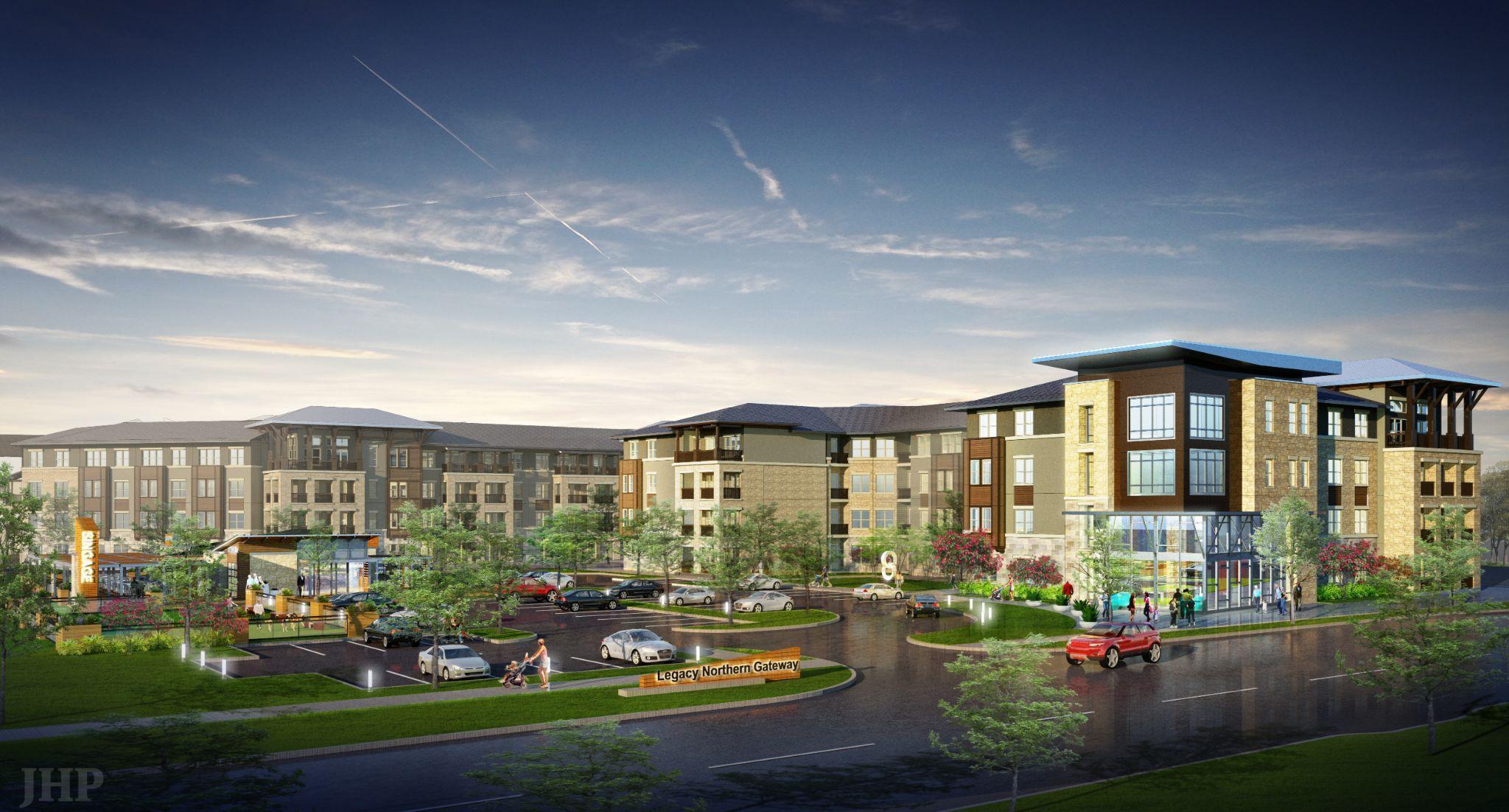 Legacy's current multifamily development portfolio in the DFW Metroplex is now up to 1,300 homes
LEWISVILLE, Texas (Oct. 3, 2023) – Legacy Partners ("Legacy"), a privately held national real estate firm, and Pondmoon Capital Holdings USA ("Pondmoon Capital") today announced the opening of Merit, a 296-residence mixed-use community in Lewisville, Texas.
The community is located off Interstate 35E, approximately 15 miles equidistant from the two largest office submarkets in the Dallas-Fort Worth Metroplex: Las Colinas and the Upper Tollway, which includes the cities of Frisco and Plano.   
"Merit's location really cannot be surpassed," said Matt Brendel, senior managing director at Legacy. "Residents are less than 20 minutes from major employment centers, and only two miles from serene walks, bike rides, fishing, and other outdoor recreation at Lake Lewisville, the largest lake in North Texas. Merit is also within close proximity to historic Old Town Lewisville and the Shops at Highland Village, which offer numerous retail, entertainment, and dining options."
The Lewisville apartment community features one-, two-, and three-bedroom layouts ranging from 630 to 1500 square feet appointed with high-speed fiber internet, smart home technology, granite countertops, stainless steel appliances, work-from-home spaces, and private balconies or patios. Residents have access to a coworking space with private conference rooms, a resort-style pool, an ultra-modern fitness center, and electric vehicle charging. The pet-friendly community also offers a dog spa, and a gaming courtyard with fire pit, ping pong table, and an outdoor grilling station.
The community also includes onsite restaurant and retail space that shares a large open-air patio overlooking a spacious public dog park nestled in natural terrain. The majority of the retail space was leased prior to the end of construction.
Merit was designed by Dallas-based JHP Architecture. The general contractor was Provident General Contractors.
Merit is the newest community from Legacy to hit the Dallas-Ft. Worth Metro Area. Last year, Legacy delivered 880 LYN on Lake Carolyn in Las Colinas' Urban Center. In the coming months Legacy will open Ovation at Galatyn Park in Richardson and in early 2024 Legacy Gateway will be opening in Forney.
"Merit is our fifth project in this region," said Patrick Chen, CEO of Pondmoon Capital. "We're thrilled to partner with Legacy Partners to bring an elevated living experience to Lewisville, an area that has seen a dramatic increase in jobs and demand for living space. Rapid job growth and sustainable demand for rental residences are the main drivers for our focus on Sun Belt markets such as Texas and Southern California. The entire development and construction team behind Merit work in sync to execute with commendable commitment and diligence. Pondmoon is proud of such outstanding partnership, which will without doubt flourish with success. "
For more information about Merit, visit: https://www.livemerit.com/
About Legacy Partners
Legacy Partners (Legacy), a privately held real estate firm founded in 1968 and headquartered in the San Francisco Bay Area, owns, develops, and manages multifamily communities throughout the United States. Since its inception, the company has developed or acquired more than 80,000 apartment units at more than $8.5 billion in cost. Legacy has regional offices in California, Colorado, Florida, Georgia, Texas, and Washington, and has developed more than 68,000 apartment homes in Arizona, California, Colorado, Florida, Nevada, Oregon, Texas, and Washington. Since inception, Legacy has worked with some of the world's largest financial institutions, life insurance companies, and real estate companies, consistently delivering exceptional results. Legacy provides management services for its own portfolio, as well as other owners. Combined, Legacy manages a portfolio of more than 50 multifamily communities with almost 12,000 apartment homes, and with a gross value in excess of $3 billion. For further information, please visit www.legacypartners.com
About Pondmoon Capital
Founded in 2014, Pondmoon Capital, formerly known as JD Capital USA, is a privately held investment manager. Pondmoon Capital primarily focuses on investments in rental apartment development across major metropolitan areas in the U.S., including New York City, Washington D.C., Dallas, Chicago, Minneapolis, Los Angeles, San Francisco, and Atlanta. The firm's total investment consists of over 2,800 apartment or hotel units and over two million square feet of apartment and retail space. Learn more about Pondmoon at pondmoon.com.
###
[ See All News ]