Legacy Partners and Resmark sell 168-unit downtown San Diego apartment community
November 2, 2021 byEditor forInstitutional Real Estate Investor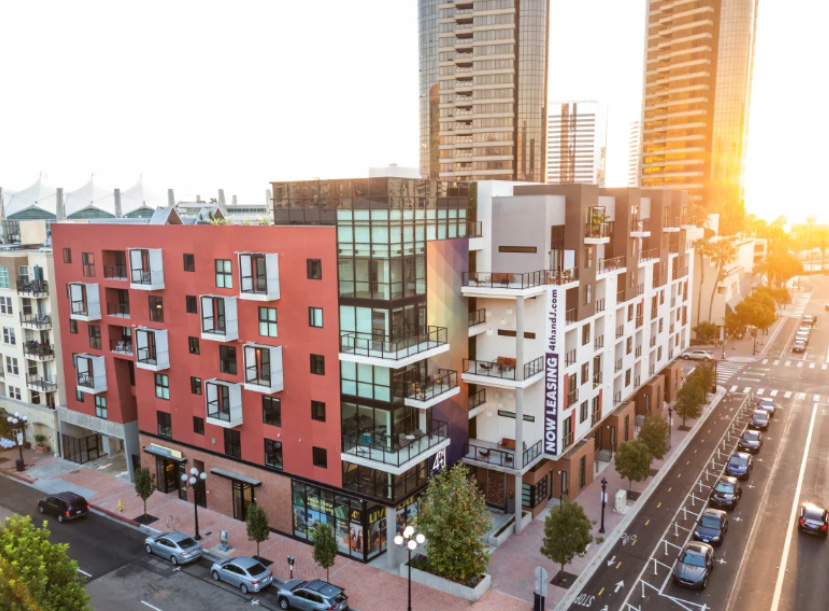 Legacy Partners and The Resmark Cos. have sold 4th + J in the luxurious Marina District of San Diego. It was sold to Versity Investments LLC for an undisclosed amount.
The six-story, 168-residence community at 372 Fourth Ave. was completed in 2020, in a joint venture between the two companies, and is 95 percent leased.
"We are very pleased with another successful project with Legacy," said Ziv Cohen, Resmark's CIO. "Their team brings forth ample local knowledge and development expertise. We look forward to many more projects with Legacy."4th + J features studios, one- and two-bedroom residences, and loft spaces. Amenities at the community include a fitness center, pool, spa and pet area, and a rooftop barbecue and lounge area. The building's architect, San Diego-based Carrier Johnson + Culture, incorporated sustainable elements such as electric charging stations, a heat-reflective roof, and space for photovoltaic cell installations.
"4th + J is in one of the best locations in all of downtown San Diego," said Timothy O'Brien, Legacy's senior managing director. "We set out in 2015 to build our first apartment community in San Diego in nearly a decade. What we constructed is a highly refined living experience that attracts residents who love being in the heart of everything the Marina District has to offer — from the views to the nightlife. Our team continued to manage the property after it was completed; successfully leasing the units and maximizing rental rates. We're pleased to offer a seamless transition to Versity, which has a great track record of managing multifamily communities across the nation."
Located in the heart of the Marina District, just steps to the Gaslamp Quarter, 4th + J is a short walk to the Convention Center Trolley Station, Petco Park, Horton Plaza and the Pendry Hotel by Montage.
[ See All News ]