Legacy Partners announces opening of ultra luxurious Skyloft Apartments in Irvine
October 28, 2019 byEditor forMultihousing Professional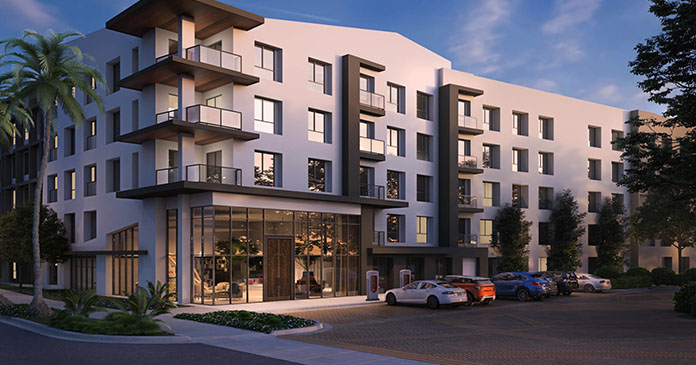 Legacy Partners ("Legacy"), a privately-held national real estate firm, announced today the opening of Skyloft Apartments, which is owned by Sanderson J. Ray Development. Located at 2700 Main Street, just steps from Irvine's Business Center, Skyloft features 388 studios and one-, two-, and three-bedroom residences.
Built by StreetLights Residential, designed by Architects Orange, and professionally managed by Legacy, Skyloft offers an eclectic mix of style and comfort, with designer finishes, high-end appliances, and the latest in smart-home technology. The community's signature design is by renowned celebrity designer Thomas Schoos, with lush landscaping by Adam Schwerner and a marquee sculpture by Jorg Dubin.
"Skyloft offers residents the ultimate contemporary coastal living experience," said Dawn Mills, Regional Manager at Legacy."Open, sundrenched floor plans and natural palettes, coupled with our signature amenity collection, make Skyloft a remarkable lux community for those seeking convenience and comfort in the heart of Orange County."
Residential amenities at Skyloft include a rooftop beach lagoon and poolside sky lounge; zero-edge pool and hot tub; rock-climbing wall; state-of-the-art golf simulator; electric vehicle charging stations; pet spa; and a "Tot Lot" play center for children.
Skyloft is surrounded by outdoor adventures, nationally acclaimed schools, best-in-class dining, and refined shopping. The community has near-instant access to the 405, 5, and 55 freeways, as well as to the Irvine Spectrum Center, Fashion Island, and the University of California, Irvine.
---
About Architects Orange
For more than four decades, using collaboration as a guiding force, Architects Orange (AO) has evolved into a successful, full-service and integrated practice. An established firm with an industrious spirit, AO has earned a reputation for being one of the most respected architectural design and planning practices in the country.
About Legacy Partners
Legacy Partners (Legacy), a privately held real estate firm founded in 1968 and headquartered in the San Francisco Bay Area, owns, develops and manages multifamily communities throughout the United States. Legacy has regional offices in California, Colorado, Florida, Texas, and Washington and has developed more than 60,000 apartment homes in Arizona, California, Colorado, Nevada, Oregon, Texas, and Washington. Since inception, Legacy has worked with some of the world's largest financial institutions, life insurance companies, and real estate companies, consistently delivering exceptional results.
Legacy provides management services for its own portfolio, as well as other owners. Combined, Legacy manages a portfolio of over 60 multifamily communities with more than 14,000 apartment homes, and with a gross value in excess of $2 billion.
About StreetLights Residential
StreetLights Residential specializes in new urbanist apartment homes and mixed-use developments. Its business plan focuses on building near neighborhoods with the highest home prices (price per square foot). With in-house development, design, and construction expertise, the StreetLights team focuses on building custom luxury communities which rival the experience, lifestyle, and amenities of living in an urban boutique hotel. StreetLights has numerous urban infill projects throughout the country with more than 8,500 multifamily units completed, in progress, or projected in 11 cities across six states. Since StreetLights' inception in 2011, the company has grown to more than 150 employees in its development and construction companies and has offices in Atlanta, Dallas, Austin, Houston, Orlando, Phoenix, and, San Diego.
About Sanderson J. Ray Development (SJRD)
SJRD is an Irvine-based commercial developer with a 35-year track record and an impeccable reputation.
[ See All News ]