Legacy Partners begins leasing two long-awaited East Bay developments
July 16, 2020 byTed Andersen forSan Francisco Business Times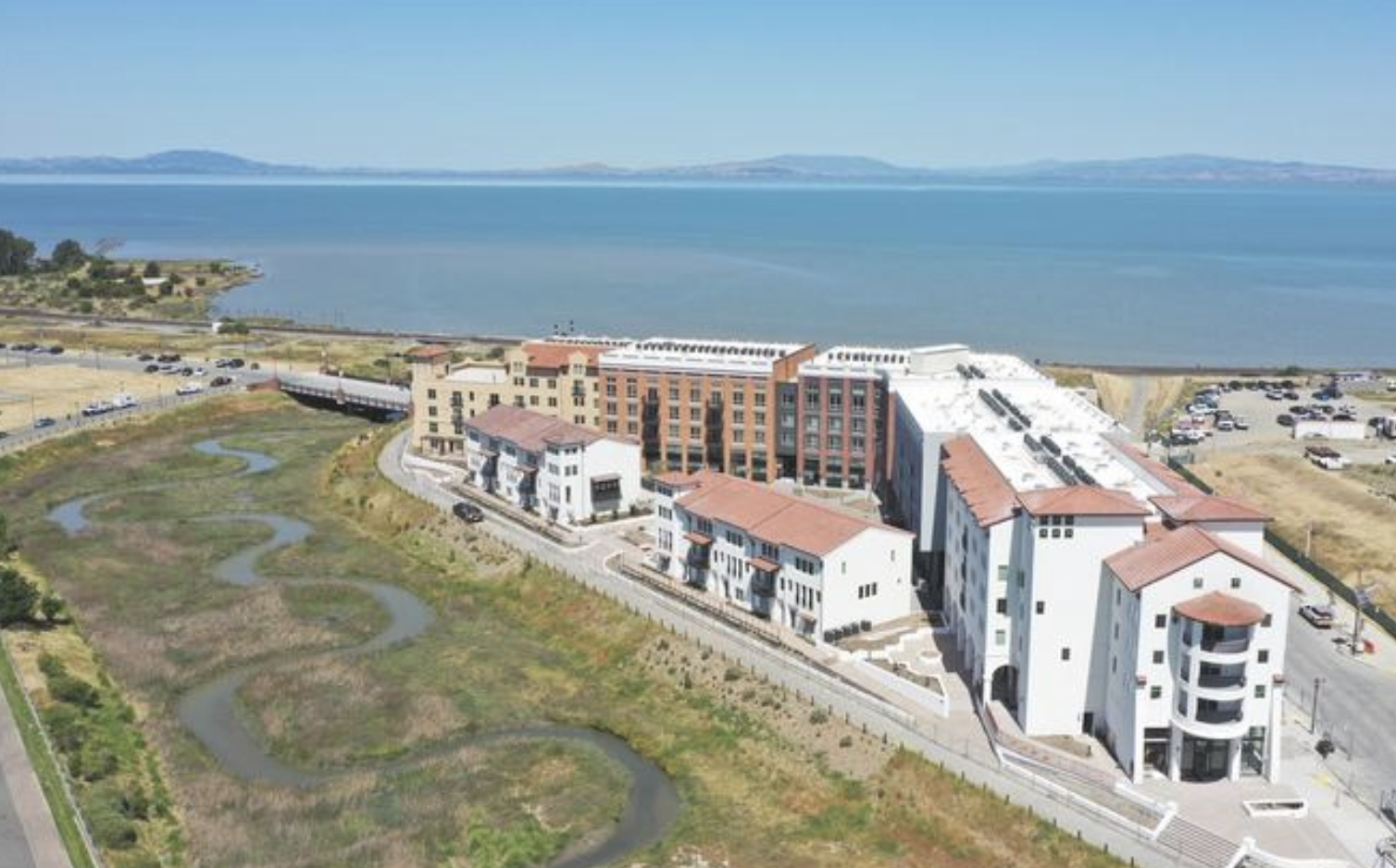 The first part of an ambitious waterfront development plan in Hercules is now open and ready for business.
Foster City-based Legacy Partners announced Thursday the start of leasing at The Exchange at Bayfront, a 172-unit community. The residential development, designed by Seattle-based GGLO Architecture, is the first delivery in a multi-phase transit-oriented project on the 42 acres along the Hercules Bayfront.
The Exchange features a mix of studio, one- and two-bedroom units and lofts, as well as three-story townhomes with private garages. Prices range from about $3,000 for a one-bedroom loft to just over $4,300 for a three-bedroom residence with three and a half bathrooms. Move-ins are scheduled for August.
The residences in the waterfront-facing, four-story buildings sit above about 13,000 square feet of ground-level retail. A Legacy Partners representative told me the firm was still hunting for commercial tenants for this space.
The Exchange and the Hercules Bayfront Master Plan are developments of Ledcor Development LP and are professionally managed by Legacy.
Ledcor Properties Inc., a subsidiary of Vancouver-based Ledcor Group, broke ground in 2018 on the Bayfront Master Plan, which is expected to add over 1,500 apartments and condos, more than 100,000 square feet of office space and 90,000 square feet of retail to the city by 2024. The homes are to be designed around a transportation center for bus, train and ferry service from Hercules to San Francisco and elsewhere.
Concord's Renaissance Square

Meanwhile, a big transit-oriented development in Concord that had to overcome arson is also ready for leasing now, Legacy Partners and San Rafael-based SyRES Properties announced Wednesday.
Renaissance Square features a "modern collection" and a "luxury collection" of units with lease prices ranging from about $2,700 per month for a studio to about $3,500 for a luxury two-bedroom townhome. Units are now available for immediate move-ins. The development is located one block from the restaurants and cafes of Todos Santos Plaza, a short walk to the Concord BART station and a short drive to I-680 interchange.
In 2016, Legacy Partners and SyRES Properties acquired a 134-unit apartment building near the Concord BART station for $59.5 million, along with an adjacent parcel for $4.5 million where they planned to build the 180 additional units that just went online. The developers then broke ground on the second phase of Renaissance Square, hoping to complete the building by the summer of 2018.
But a massive fire ripped through construction in April 2018 when the building was about 60-70% complete. The ATF later determined the fire to be an act of arson.
The project has now come online during a less-than-ideal situation with the coronavirus pandemic, but Legacy Partners Senior Managing Director David Eichler said the company is taking precautions.
"We've implemented virtual and socially-distant in-person tours across all of our properties throughout the nation," Eichler said. "Our onsite Renaissance Square team has been taking every precaution to ensure the safety and wellbeing of current and future residents; and, we expect our leasing efforts to match the ongoing demand for high-quality apartments in Concord, which continues to be a booming East Bay city."
[ See All News ]