Legacy Partners Sells Los Angeles TOD Build for $100M
April 23, 2021 byKelsi Maree Borland forGlobe Street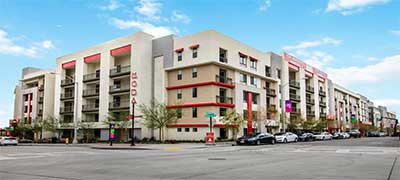 Opportunity Housing Group buys MODA at Monrovia Station, a 261-unit apartment complex in El Segundo.
Legacy Partners along Griffin Capital and Silverpeak Real Estate Partners has sold MODA at Monrovia Station for $100 million to Opportunity Housing Group, which is serving as property administrator for California Statewide Communities Development Authority. The property is a 261-unit transit-oriented development in Monrovia.
Legacy Partners signed a ground lease for the project in 2016, and the project delivered in 2018. At the time of the sale, the property was 90% leased, helping to secure a strong sale price that generated an attractive risk-adjusted return for investors, according to Eric Kaplan, president of Griffin Capital Private Equity.
MODA at Monrovia Station is adjacent to the Gold Line at Monrovia Station, but the area has been hailed as a transit-oriented hub in the city with a shopping and entertainment district around the station, which includes restaurants and entertainment. The city expects that this district will fuel growth in the market.
The property itself has a mix of one- and two-bedroom units along with a pool and spa, barbeque areas, fire pits and a 4,000-square-foot rooftop terrace.
Although the firm plans to focus in the Southeast, the California market, where MODA is located, is poised for multifamily recovery this year. In an earlier interview, Daniel Withers of Matthews Real Estate Investment Services said that the California market should begin its recovery by the end of the year and into 2022 with apartment rents and occupancy levels returning to pre-pandemic levels by the end of 2021. SHARE ON FACEBOOK

[ See All News ]