Legacy Partners Sells Orlando Community for $129M
September 14, 2022 by Jackson Chen forMulti-Housing News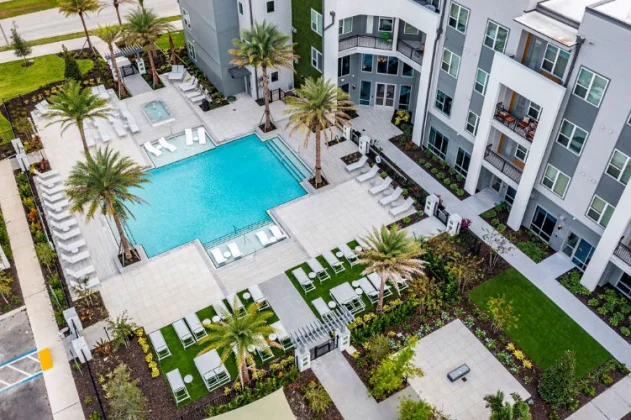 Legacy Partners has sold its nearly fully occupied community in Orlando, Fla. The firm, along with joint venture partners Phoenix Capital Management LLC and Silverpeak Real Estate Partners sold Legacy Universal to OpenStreet Capital and JD Cap for $129 million. Newmark's Scott Ramey, Patrick Dufour, Brad Downing and Paul Grant represented the joint venture sellers.
Legacy Partners first acquired the 11.4-acre site for Legacy Universal in February 2020 from Republic Properties Inc. The firm broke ground on the community in summer 2020 and began leasing a year later. Legacy Partners tapped Dwell Design Studio as the project's architect, while Summit Contracting Group Inc. was the general contractor. Regions Bank also provided construction financing for the project.
The four-story luxury apartment community includes 350 units in studio, one-, two- and three-bedroom units that range from 484 to 1,391 square feet. The units were built with 10-foot ceilings, quartz countertops and stainless steel appliances, while select units have a mudroom, a computer niche, an island countertop and a private garage. Community amenities include a dog park, a fitness center, a wellness lounge, bike storage and package lockers with cold storage.
Late last year, Legacy Partners opened the 228-unit Legacy Encore in downtown Tampa after breaking ground on it in June 2020. Naeem Coleman, managing director at Legacy Partners, told Multi-Housing News that the firm is in the early stages of redeveloping the Macy's at Volusia Mall, which will be converted into a 350-unit community in Daytona Beach, Fla.
"The Orlando market is one of the fastest growing areas in the country and continues to add jobs in every sector," Coleman told MHN, adding that the market is a well-known tourist destination and is seeing job growth with the local aerospace and tech industries. "We love Central Florida and are continually looking to do more deals here."
Since its founding in 1968, the San Francisco-based firm has developed more than 78,000 units across the country. Legacy Partners also provides management services for the communities within its portfolio as well as outside properties, totaling more than 50 communities with more than 12,000 units under management.
[ See All News ]