Legacy Partners the latest to join the Bel-Red development parade
March 7, 2022 by Marc Stiles for Puget Sound Business Journal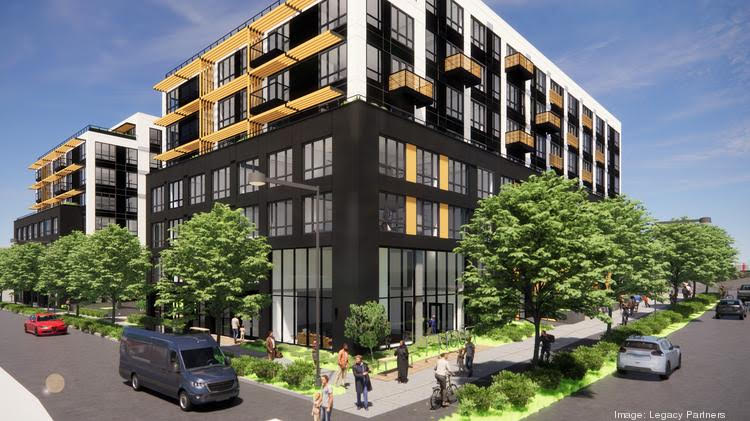 Another nearly 300 units of multifamily housing are coming to the area around the Bel-Red/130th Link light rail station, this time compliments of Legacy Partners' Seattle office.
The company last week paid $18.2 million for a nearly 1.8-acre former industrial park at 1525 132nd Ave. NE, which is a half-block from the rail station. A portion of the property will become part of the Bel-Red neighborhood's new road network, leaving Legacy with a 1.5-acre development site.
The company put the property under contract in early 2018, according to Alexis Chartouni of Finem Investment and Development Ltd., a consultant on the eight-story Bellevue Station project, which will have 288 rental units plus around 8,600 square feet of commercial space. Legacy expects to enroll the development in the city's multifamily tax exemption program, meaning a fifth of the units will be reserved for lower-income households.
"Legacy likes to be ahead of the curve in terms of picking good, strong locations," he said. Seeing the 36-acre Spring District mixed-use development take shape a light rail stop to the west, Legacy made its move at Bel-Red/130th, the last stop before Redmond. "We took a look at the Bellevue Station project and surmised it would be the next top location."
Legacy joins other developers building apartment projects around the Bel-Red/130th Station. Among them are Vulcan Inc.'s 249-unit development called Ondina and an approximately 400-unit project by Holland Partner Group.
"It's nice (being among the first) because we essentially get to create the market and set the standards for that little node," Chartouni said. "If you look at property sales in that area almost every parcel in and around the 130th Station is now in play with one development group or another."
The closing took so long because Sound Transit had an easement on about a quarter of the property to build the station, which is scheduled to open in 2023.
Legacy still has to finish entitling the site. Chartouni hopes to start construction in June, with an end of 2025 opening date.
Kerry Nicholson, senior managing director of Legacy Partners, said New York Life is the equity investor; he anticipates JP Morgan will be the lender. He declined to provide the anticipated development cost.
Bellevue Station will have 318 stalls of underground parking, which is high for a transit-oriented development.
Chartouni said the project team envisions Bellevue Station residents will commute to work in Redmond, downtown Bellevue and Seattle on the train, but will need cars on weekends and evenings to get places where light rail doesn't go.
Encore Architects designed Bellevue Station and Compass Construction will build it. Other members of the project team are KPFF, civil engineering; Yu & Trochalakis, structural engineering; and MFID, interior design; and Weisman Design Group, landscape architect.
The group that sold the site to Legacy is DMC Assets LLC, which according to public records is governed by Mike Dolan and CCD Enterprises, whose officers are listed as Cheryl Dolan, Linda Carson and Sylvia McIntosh.
[ See All News ]