Maui affordable housing project expected to be delivered next summer
October 8, 2022 by Stephanie Salmons for Pacific Business News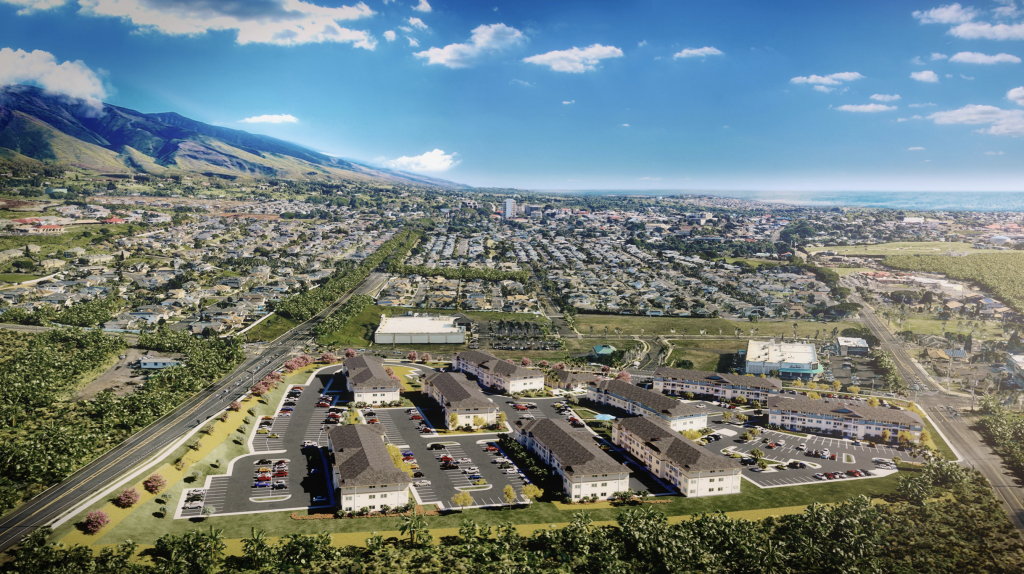 Homes in a Central Maui affordable housing community are expected to be delivered by late next summer.
Kaulana Mahina Apartments include 324 studios and one-, two- and three-bedroom units. Amenities include a pool, yoga room, resident lounge, lawn area and dog park.
The homes will be made available with a lottery process that will open in the months prior to the delivery.
According to an announcement from Legacy Partners, a privately held real estate firm based in the San Francisco Bay Area and managing member of the development team, this is the first major affordable workforce housing investment of the AFL-CIO Building Investment Trust in Hawaii.
The fund is a commingled fund of more than 250 union pension plans that invests in commercial real estate nationwide, the announcement noted, adding that in the Islands, AFL-CIO members include the Hawaii Government Employee Association and all the state's building and construction trades.
"This is the first major new workforce housing project on Maui to be started in decades," Kerry Nicholson, senior managing director of Legacy Partners, said in a statement. "Legacy Partners and the AFL-CIO Building Investment Trust are proud to be part of the solution to solving Maui's chronic housing crisis. We need more of these projects throughout Hawaii."
In an email to Pacific Business News, Nicholson said the developer typically doesn't state the all-in costs of a project, but added that the AFL-CIO entity is providing 95% of the equity for the project and 100% of the debt. Legacy Partners, Kehalani Agricultural Investors and Pier Investments provided the remaining 5% equity.
The developer is BIT Wailuku LLC, which is comprised of PNC Realty Investors, Inc., managing member Legacy Partners, Pacific Coast Capital Partners, Dowling Company, Pier Investments, and Schatz Collaborative LLC. The construction and design team is Moss & Associates, Clifford Planning & Architecture, Warren S. Unemori Engineering, Inc., and Group Pacific.
Legacy Partners and other project partners gathered earlier this month to celebrate the development.
"Kaulana Mahina is a welcome addition to Maui's range of housing options for our hardworking residents," Maui County Mayor Michael Victorino said in a statement. "It's a top-notch development located close to jobs, schools, shopping, medical services, and everything that working families could want from an affordable rental project."
According to the announcement, the project is a collaboration with Maui County, the Mayor's Office and Maui County Council, as well as Hawaii Housing Finance Development Corp.
The development is located in Wailuku and bound by Waiale Road in the east, Kuikahi Drive in the north and Honoapiilani Highway to the west.
Nicholson told PBN that site work is underway and vertical construction is expected to begin in the next several weeks. In addition to other slow-downs, the pandemic caused a multi-year delay in the project, Nicholson said.
"The delay had the concomitant effect of causing costs to increase by several tens of millions of dollars," Nicholson said. "Some building components and materials are now more available than they were six to nine months ago, but other items previously not difficult to source are now showing up with the potential to cause delays."
According to the announcement, following county code, the development is 60% affordable and is a 201H affordable housing project.
"The site was previously zoned as agricultural," Nicholson said. "Because it was on the edge of Wailuku's built environment, and because 60% of the units were restricted as 'affordable,' we utilized the 201H mechanism as the way to get the zoning for the site changed so as to allow for this project."
[ See All News ]