Moda Monrovia Holds Grand Opening Party
January 31, 2019 bySusan Motander forMonrovia Weekly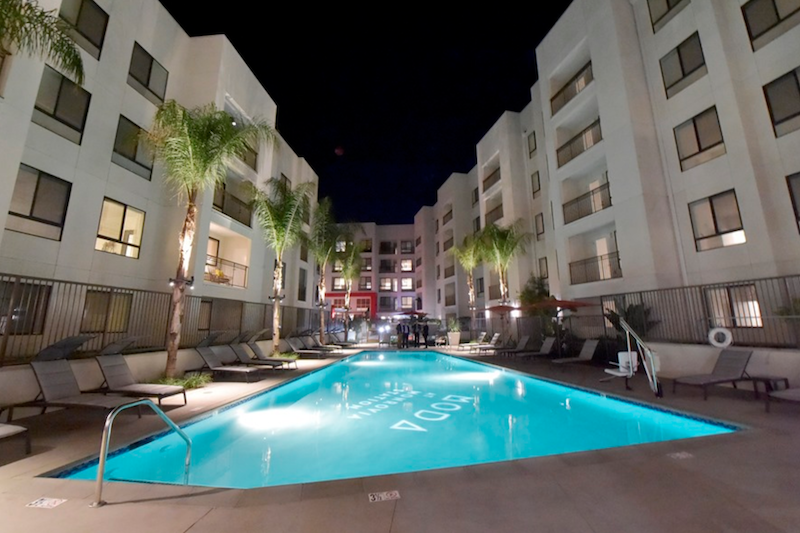 Moda, the first apartment complex at Station Square, has been renting for the last few months and last Thursday Legacy Partners, the developers, held a grand opening party to celebrate the first phase of the project opening. Ultimately the complex will include 241 units.
The celebration on Thursday had the standard presentation of a proclamation from the mayor and City Council but there was also a presentation from the artist who created the reflecting image of Monrovia Falls that graces the south side of the complex. This art in public places image is visible from the Gold Line.
When completed, Moda will include two interior garden areas (one including a pool, the other sporting outdoor cooking and dining spaces), as well as a fitness center, a computer room and even a rooftop deck with views of the foothills. This final feature is the one most valued by one who has already moved in. Angela Wong, who identified herself as a new resident, said that her sister works at City of Hope and is able to come over at lunchtime to grill lunch with her on the roof.
This project is merely the first proposed project adjacent to the Monrovia Gold Line Station. The next project that has already been approved is Station Square South, a 296-unit apartment complex south of the station. This complex by Richman Development will include three courtyards, a pool court, common roof decks, a dog-run, and a greenhouse. Each of the units will also have a balcony with the exception of the live/work units. Access to the Gold Line Station will also be opened up from the south side of the station with the opening of this development.
Several other complexes are planned for the area, in essence a veritable new "Gold Rush" to the station area. These include a project by Trammell Crow Alexan that is planned to create an additional 436 units on South Magnolia Avenue. The Arroyo at Monrovia Station, proposed for the area across the street from Moda on Pomona between Primrose and Magnolia, would include 276 residential units including three live/work units. The next project in the planning phase is being referred to as 123 Pomona of 310 apartments. All these projects are still in the planning phase and have not yet been approved by the city.
[ See All News ]