New Rentals Arrive in Luxury Marina District
May 18, 2020 byRay Huard forSan Diego Business Journal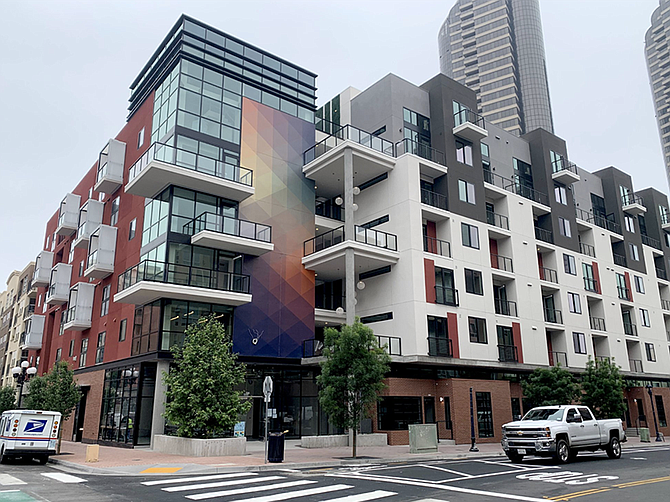 Timing was a little off for Legacy Partners, opening a $65 million apartment complex in downtown San Diego in the midst of the COVID-19 pandemic.
As a result, leasing in the six-story building at 4th Avenue and J Street has been a little slower than the San Francisco-based company would have liked.
Still, people are signing leases and interest is picking up, said Tim O'Brien, senior managing director of Legacy Partner's Southwest region.
"Downtown San Diego is a very active market, but just like everywhere right now, it's been affected by COVID-19," O'Brien said.
"That being said, coming out on the market this month is better than coming out last month and I think that it's just going to get better as we're going into the prime lease months," O'Brien said. "Whether it's here or in other markets that we're leasing in, we're starting to see markets loosen. We're doing (virtual) tours and we're doing guided tours, so we're making it easy for people to get in and tour the property."
As of early May, O'Brien said about 10 percent of the building's apartments had been leased.
Location is Top Amenity
The project's unparalleled location in the heart of downtown's Midway District gives it an advantage other downtown apartment complexes lack, said Rachel Parsons, a director of the commercial real estate brokerage Moran & Company.
"It's the only multifamily property built in the Marina District in over 28 years. It's literally the only institutional property in the Marina District," Parsons said, institutional meaning it is a sizable project built by a large company.
"The fact that the developer was able to find this site and is doing this project, I think the project will do exceptionally well because of the desirability of the Marina District," Parsons said. "Long term, I think this project is going to outperform a lot of the other pockets downtown because there isn't any competition (in the Marina District)," Parsons said.
The district is within walking distance to the bay front, the bustling Gaslamp Quarter, Little Italy and the San Diego Convention Center.
Those venues are quiet during the pandemic, but almost certain to pick up once the pandemic passes.
The district also is just far enough away from the busiest sections of downtown to offer a respite when someone wants more quiet.
"Before Little Italy was anything, Marina was the only luxury market downtown," Parsons said. "It was built out first and foremost of anywhere downtown."
A Mix of Modern and Old Mexico
Designed by Carrier Johnson + Culture, the 110,000 square-foot Legacy Partners project has a modern flair with a nod to colonial Mexican architecture.
Part of the design was inspired by the architecture of San Miguel de Allende in Mexico, O'Brien said.
The building has 75 studio apartments ranging from 376 square feet to 435 square feet, 63 one-bedroom, one-bathroom apartments ranging from 570 square feet to 880 square feet, nine two-bedroom, two-bathroom apartments, and top floor penthouse apartments ranging from 782 square feet to 1,186 square feet.
There also are 13 of what Legacy Partners calls stoop apartments that open onto the street. The stoop apartments are a mix of studio and one-bedroom apartments ranging from 398 square feet to 1,130 square feet.
The ground floor has 1,200 square feet of retail space that's earmarked for a coffee shop.
"We're in negotiations with a local coffee roaster," O'Brien said. "It will be a great amenity for the building."
Other amenities include a clubhouse that overlooks a swimming pool and spa and a gym.
Monthly apartment rents range from about $1,970 to $5,000 for the bigger penthouse apartments.
"Generally, it averages about $2,400," O'Brien said.
The Market
O'Brien said the large number of studio apartments should add to the building's attractiveness to younger renters.
Typical renters will likely range in age from the late 20s to late to mid-40s, O'Brien said.
The apartments themselves have stainless steel appliances, kitchen backsplashes and bathroom tiles that go to the ceiling, O'Brien said.
The four corner penthouse apartments have lots of glass to take advantage of the views.
"You basically have two levels of glass on these penthouse units and a loft-type bedroom," O'Brien said.
There also are two rooftop decks that have "get terrific views," O'Brien said, despite the building's modest height compared to some of the apartment towers built downtown of late.
"There are taller buildings downtown. Where we are in the Marina District, six stories is pretty tall," O'Brien said.
One of the decks is what O'Brien described as more of an outdoor walled-in dining with no roof that is similar to the style of Mexican courtyards.
"Even though it's a contemporary space, it has kind of an old-world feel to it," O'Brien said. "It's really a pretty romantic space."
Downtown's Appeal
Despite the pandemic, Parsons said the multifamily market in downtown in particular and county-wide has been relatively strong.
"There isn't any sign of distress in the multifamily market," Parsons said, although she said "velocity isn't as high as most downtown building owners would like to see. That's not unique to downtown."
"Right now, there's still a lot of demand from people to move downtown and traffic generally speaking has picked up compared to where we were four to six weeks ago."
For one thing, many building owners have switched to offering online tours as Legacy Partners has done.
Virtual Tours
"In this COVID environment, you're remaking your marketing and your touring with safety protocols," O'Brien said.
Prospective renters at Legacy Partner's project can take a video tour of the project and then an actual physical tour.
Using a smart phone app, a business manager from Legacy Partners will lead prospective renters through the building and the apartments that interest them, O'Brien said.
"They'll have a route they follow. They go by the amenities and go into the apartment they're interested in leasing," O'Brien said.
Surfaces of everything along the tour are cleaned before and after.
Vacancy Rates
Vacancy rates in apartment buildings are higher than they were prior to the pandemic, but they've seen nowhere near the increase in vacancy among retail and office property.
"Here, your vacancy rate was 6 % before, maybe it's 8 % now," Parsons said.
Looking ahead, "I think there's optimism that we'll get back to a more normal situation in the coming months or the coming weeks," Parsons said. "The demand will always be there and people love downtown San Diego. That's not going to change."
[ See All News ]