Newly constructed Westminster apartment complex sells for $93.5 million
December 18, 2019 byAndrew Dodson forDenver Business Journal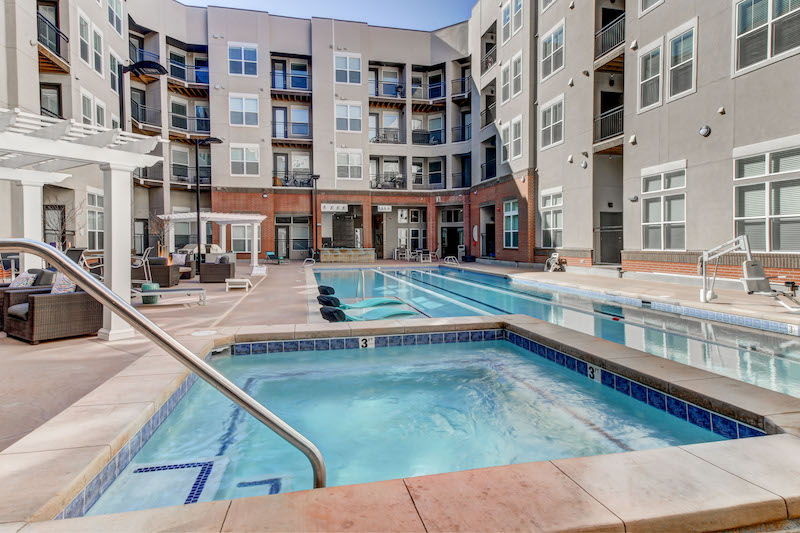 A newly constructed apartment complex in Westminster sold this week for more than $311,000 per unit.
Legacy Partners sold off its "Legacy on the Promenade," a 300-unit complex constructed in 2018 for $93.5 million to The Praedium Group, a New York-based national real estate investment firm, according to Jefferson County public records. The deal works out to $311,666 per unit, making it one of the bigger apartment deals in that category this year.
The complex is made up of a four-story building with one-, two- and three-bedroom units ranging from 641 square feet to 1,888 square feet, in addition to a six-level central parking garage and 24 townhome units with attached two-car garages. Amenities include an outdoor lounge, pool and spa, outdoor grill and fire pit station and a two-story fitness center with a spin and yoga studio.
Peter Calatozzo, principal of The Praedium Group, said the buy fits into the firm's strategy of purchasing "high quality properties in growth markets."
"The Denver MSA has experienced population and job growth that has exceeded the national average for some time," Calatozzo said in a statement. "The property is located on the border of Broomfield and Westminster, benefiting from easy access to US-36, which puts it in close proximity to one of the fastest growing employment centers in the Denver MSA — an area that has seen job creation in the technology, aerospace, financial services, health and life sciences and hospitality sectors."
The US-36 corridor is home to several corporate, national and regional headquarters, including Ball Corp., Oracle, CenturyLink and Vail Resorts.
Calatozzo added his firm will rebrand the apartment complex and make "several enhancements" to its amenities over the next several months.
This marks the second apartment complex sold by California-based Legacy Partners in December. Earlier this month, it sold Fox Crossing Apartments, a 220-unit complex near the Cherry Creek Trail, for $27.4 million.
The deal is also the second big sale to close in Westminster this month. Holland Residential Group purchased SoFi Westminster, a 332-unit complex, for $81.25 million.
[ See All News ]