No yolk! Chickens are Seattle's hot new apartment amenity
January 31, 2017 byMarc Stiles forPuget Sound Business Journal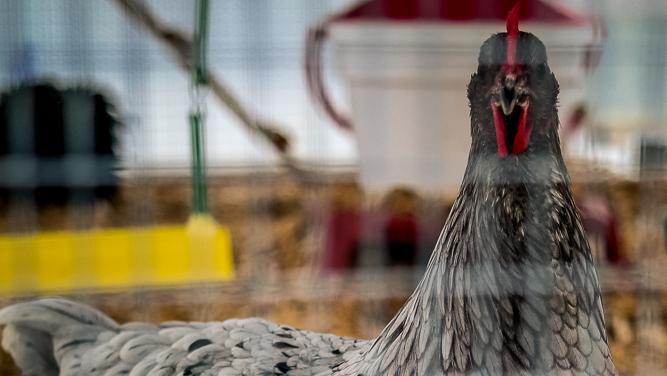 In the race for the best amenities in new Seattle apartment buildings there are some pretty cool entries: a climbing wall at a South Lake Union property, and inside ramps for bicyclists at a Fremont project called Velo.
Add hens to the list. There's a flock of them on top of Bowman, the recently opened mid-rise project at 3801 Stone Way N. The developer, the Seattle office of Foster City, California-based Legacy Partners, thinks it's the first rooftop chicken coop in Seattle.
Legacy Partners Senior Managing Director Kerry Nicholson said the "apartment amenity war keeps escalating with bigger, more lavish, sexy resident lounges, media rooms, etc." Bowman has pretty much all of the sexy ones, he said, plus the snazzy chicken coop.
"There are five very colorful and spirited hens," he said. "The human residents love stopping by to check on them and see what they are up to. We even have a chicken coop cam so you can check on them from afar."
Chickens made sense to Legacy Partners Vice President Steffenie Evans. "She had been interested in bringing the urban farming concept to the multifamily industry for quite a while, but hadn't found the right fit until Bowman," said Legacy Development Manager Sarah Argudo.
Chicken farming is so popular in Seattle that several years ago Redfin named Seattle the fifth best city to have chickens. Chickens seem especially popular in the neighborhood around the Bowman, so Evans proposed a coop for the building.
Seattle allows chickens, so there were no permitting challenges, but there were construction issues to consider.
"We had to be very mindful in how we penetrated the roof and we had to ensure that none of the chicken waste came in contact with the roof membrane," Argudo said. Constructed by Berg Danielson of Seattle-based Saltbox Designs, the coop is on a special curbing to support and elevate it.
Kevin Scott-Vandenberge with Portage Bay Grange in Seattle is teaching Bowman staff how to care for the chickens, and the eggs are offered to residents after they sign a liability waiver.
How much of a draw the hens and other amenities are for Bowman still is playing out. The building opened in May and is still in lease-up, with 69 percent of the 278 apartments leased.
For Legacy Partners, the coop is providing free publicity, and that's no chicken scratch.
[ See All News ]