Rare, new Mercer Island apartment building sells for $96 million
October 24, 2017 byMarc Stiles forPuget Sound Business Journal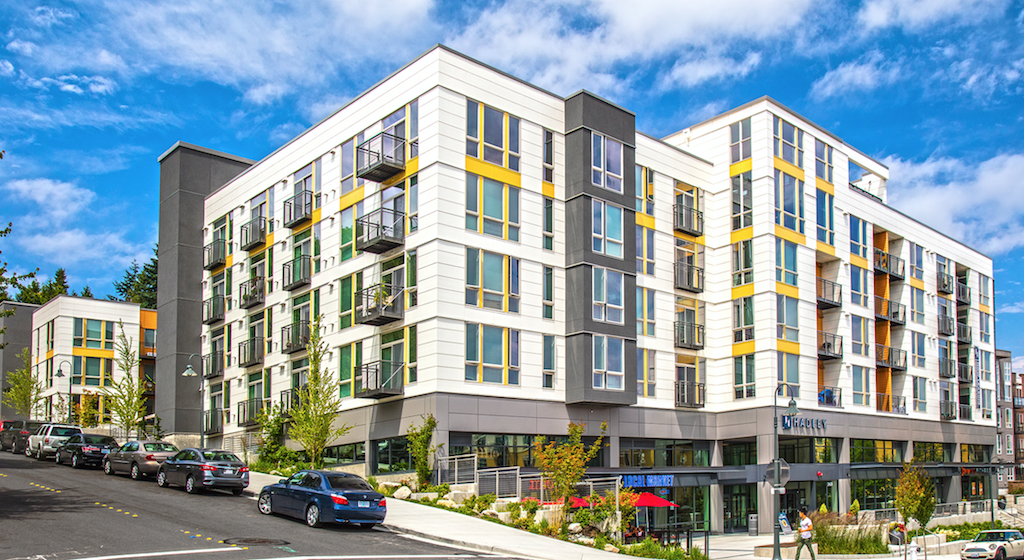 The last big new apartment complex to go up in Mercer Island's town center has sold for $95.75 million.
Foster City, California-based Legacy Partners, in partnership with Los Angeles-based Resmark Apartment Living, announced the sale of the Hadley, a high-end, 209-unit building at 2601 76th Ave. S.E., to SyRES Properties of San Rafael, California. The price was listed on a tax affidavit that King County recorded Friday.
Despite the town center's location near the current transit station and future light-rail stop, no other apartment buildings have been built in the neighborhood in recent years. Global real estate company Hines had proposed a five-story project with up to 200 units and space for a grocery store, but dropped the plans after the city commission asked Hines to update the project's design, city Development Services Director Scott Greenberg said.
Kerry Nicholson, senior managing director at Legacy's Seattle office, said that among investors there was "very strong interest" in the Hadley.
This is due in part to Mercer Island's status as one of the wealthiest ZIP codes in the Puget Sound region. Average annual income on the island, which is home to billionaire Paul Allen, is $193,750, second behind Medina. The full list of the region's wealthiest ZIP codes is here. Also, it can be difficult to develop on Mercer Island, where no other large apartment projects are in the works.
The nearly one-year-old Hadley was built on leased land and is 95 percent leased, according to Legacy. A leasing agent for the property said the starting rent for a large studio is just under $1,800. A one-bedroom starts at nearly $2,050, and there's one two-bedroom listed at $3,900 a month. The Hadley is offering one month's free rent and is waiving nearly $750 for move-in fees.
The Hadley has what Legacy said are state-of-the-art appliances and finishes. Amenities include a rooftop deck with a barbecue and fireplace. The underground parking garage has 237 stalls.
The five-story Hadley has 9,200 square feet of ground floor retailers, including Mioposto Pizzeria and Bar, Orange Theory Fitness, and Freshy's Local Market.
Commercial real estate company JLL brokered the sale to SyRES, a privately held company that buys and develops apartment properties in West Coast cities.
Legacy, which is also privately held, will continue to manage the Hadley. Legacy has developed apartment properties with more than 65,000 units in the West and Texas. The company manages 60 multifamily communities with more than 14,000 apartment units. In the Northwest, Legacy Partners manages 2,125 apartment units.
[ See All News ]