Skyloft Celebrates Opening
December 10, 2019 byTara Finley forIrvine Weekly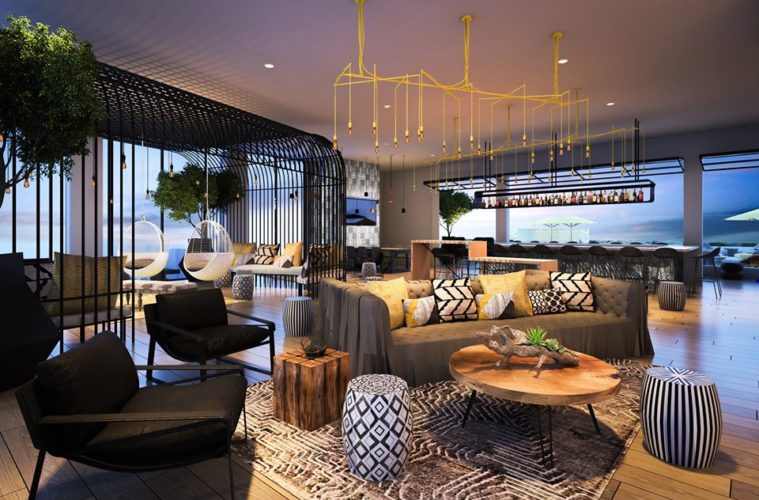 Irvine's newest high-end residences, Skyloft Apartments, celebrated its opening on Monday, December 9. The ribbon-cutting ceremony welcomed the new community with appearances from Pete Carmichael, Irvine's director of Community Development, as well as other city staff.
The public was invited to catch a glimpse of the property, which has struck interest due to its signature design by celebrity designer Thomas Schoos. Lush landscaping by Adam Schwerner and a marquee sculpture by Jorg Dubin completes Skyloft's luxurious and eclectic appeal.
Built by StreetLights Residential with help from local Southern California architectural firm Architects Orange, the apartments boast high-end appliances and smart-home technology. Professionally managed by Legacy Partners, residents will enjoy amenities such as a rooftop beach lagoon, zero-edge pool, state-of-the-art golf simulator, pet spa and a play center for children, among other community features.
"Skyloft offers residents the ultimate contemporary coastal living experience," said Dawn Mills, regional manager at Legacy. "Open, sun-drenched floor plans and natural palettes, coupled with our signature amenity collection, make Skyloft a remarkable lux community for those seeking convenience and comfort in the heart of Orange County."
Located near the Irvine Business Complex at 2700 Main Street, Skyloft features 388 units, comprised of studios and one- to three-bedroom luxury residences.
As part of Irvine's commitment to affordable living for all its citizens, Skyloft is offering 39 affordable units to those who were chosen through a lottery sign up this past spring. Irvine residents and families that classify as very low income and moderate income will be given the opportunity to lease a variety of residential units so long as they meet the requirements as put forth by the California Department of Housing and Community Development.
For more information about current lease offers, as well as the affordable unit lottery, visit skyloftapts.com.
[ See All News ]