Vacation-Like Amenities are Part of Waterfront Project
September 9, 2019 byLisa Brown forGlobe Street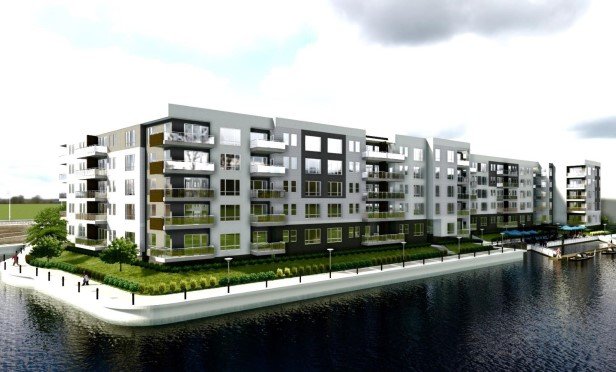 Scheduled for completion in July 2021, the property is located near public transit including DART and the Las Colinas Area Personal Transit System, allowing easy access for corporate commuters in DFW.
IRVING, TX—KWA Construction has broken ground on Legacy Lakeshore, a luxury waterfront community on 3.38 acres on Lake Carolyn in the Las Colinas area. The nearly $46 million five-story community developed by Legacy Partners and HGC Investment Management will offer 293 units ranging from 580-square-foot studios to 1,945-square-foot two bedrooms when it is completed in July 2021.
"Legacy Lakeshore will bring a new level of innovation and luxury to an already coveted location. The first-class amenities and beauty of Lake Carolyn will make residents feel like they are always on vacation," said Brian Webster, president of KWA Construction.
Designed by REES Associates, Legacy Lakeshore will offer amenities such as a ground-floor coffee shop and a fitness center that includes a yoga and spinning studio. The resort-style pool area will include outdoor kitchens with grilling stations and a jetted tub with sunbathing decks. The upscale community will also feature a dock on the waterfront with paddle boards and kayaks for resident use.
The property is located near public transit including the Dallas Area Rapid Transit/DART and the Las Colinas Area Personal Transit System, allowing easy access for commuters in the heavily corporate area.
This marks KWA Construction's first project with California-based Legacy Partners, adding to its portfolio of partnerships with national developers.
"This waterfront project will be an exciting new experience for us as we will be using some techniques to connect utilities located under water that are not common in our market in landlocked Dallas-Fort Worth," Webster tells GlobeSt.com.
Rental rate growth in Dallas/Ft. Worth slowed slightly in the last 12 months to 2.4% as 19,481 new units were delivered, with another 30,323 units under construction, according to ApartmentData.com. The DFW apartment stable occupancy rate remains strong at 93.6%. Once the new units are absorbed, rental rate growth is expected to resume, given the area's projected 2.9% job growth.
[ See All News ]